Americans United for Separation of Church and State today urged a Tennessee appellate court to allow a Knox County couple to proceed with a lawsuit challenging Tennessee's funding of a foster care agency that denied them services because they are Jewish.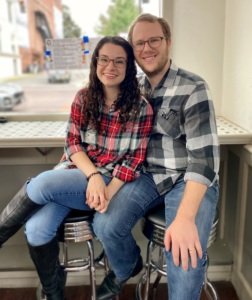 Americans United filed the lawsuit, Rutan-Ram v. Tennessee Department of Children's Services, in January on behalf of Elizabeth and Gabriel Rutan-Ram, who sought to adopt a child. Because Liz and Gabe aren't Christian, they were turned away by Holston United Methodist Home for Children, a state-funded agency that provides foster care placement, training and other services on behalf of the Tennessee Department of Children's Services.
A state trial-court panel ruled 2-1 in June that the couple doesn't have standing – the right to sue – and thus dismissed the case. In an opening appellate brief filed today in the Tennessee Court of Appeals at Nashville, Americans United explains that the Rutan-Rams have legal standing to sue because they continue to face religious discrimination by Holston and other taxpayer-funded, religiously affiliated foster care agencies. They therefore lack access to superior service options that Christians have, and they continue to suffer the stigma that discrimination inflicts on its victims.
"Liz and Gabe Rutan-Ram were subjected to outrageous and unacceptable religious discrimination because of their Jewish faith," said Rachel Laser, president and CEO of Americans United. "This loving couple wanted to help a child in need, only to be told that they couldn't get services from a taxpayer-funded agency because they're the wrong religion. Everyone should be appalled by the treatment they received. Liz and Gabe deserve their day in court, and Americans United intends to see that they get it."
The Rutan-Rams began the process of fostering to adopt a child from Florida in 2021. They were told they needed to complete Tennessee-mandated foster-parent training and a home-study certification. The couple contacted the only agency in their area that was willing to provide those services for out-of-state placements – Holston.
Holston initially told the Rutan-Rams that it would work with them. But the day that the Rutan-Rams were scheduled to start their training, the agency informed the couple it wouldn't serve them because they are Jewish. Holston said it "only provide[s] adoption services to prospective adoptive families that share our [Christian] belief system." Because there was no other agency in the Knox County area that would provide the foster-parent training and certification for the adoption of an out-of-state child, the Rutan-Rams were unable to adopt the boy from Florida.
The lawsuit also names the Commissioner of the Tennessee Department of Children's Services as a defendant. The suit explains that the department and its commissioner are violating the religious-freedom and equal-protection guarantees in Articles I and XI of the Tennessee Constitution by funding religious discrimination in foster care services.
The trial-court panel also concluded that six Tennessee taxpayers, four of them faith leaders, who joined the Rutan-Rams as plaintiffs did not have the right to sue either, even though they object to their tax dollars being used to fund religious discrimination in foster care. Americans United has appealed on their behalf as well. The six other plaintiffs are Rev. Jeannie Alexander, Rev. Elaine Blanchard, Rev. Alaina Cobb, Rev. Denise Gyauch, Dr. Larry Blanz and Mirabelle Stoedter. 
Attorneys working on the case include Americans United Associate Vice President and Associate Legal Director Alex J. Luchenitser; AU Vice President and Legal Director Richard B. Katskee; AU Legal Fellow Gabriela Hybel; and Scott Kramer at The Kramer Law Center.
More information about the case is available here. A photo of Liz and Gabe Rutan-Ram is available here.
Americans United is a religious freedom advocacy organization based in Washington, D.C. Founded in 1947, AU educates Americans about the importance of church-state separation in safeguarding religious freedom.
Press Contact