Last January, Gabe and Liz Rutan-Ram were about to start a new, much-anticipated chapter in their lives: The Knoxville, Tenn., couple was seeking to foster-to-adopt a 3-year-old boy from Florida named Lorenz.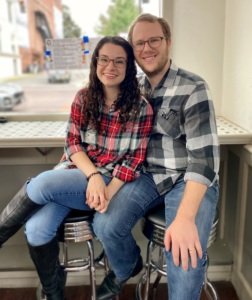 They had no idea their plans were about to be derailed by a cruel and unconstitutional bill signed into law a year earlier by Tennessee Gov. Bill Lee that allowed taxpayer-funded foster care agencies to discriminate against prospective families who are the "wrong" religion.
Gabe and Liz were unaware of House Bill 836. They were busy getting a new, family-friendly car, preparing a room in their home for a child, and searching for a foster care agency that would provide the foster-parent training and home-study certification mandated by Tennessee.
Because they wanted to foster and adopt an out-of-state child, Gabe and Liz struggled to find an agency that would work with them. The couple finally was directed to the only agency in their area that offered the necessary services for out-of-state placements: Holston United Methodist Home for Children, a state-funded agency that provides foster care placement, training and other services on behalf of the Tennessee Department of Children's Services.
But the day they were to begin their training, Gabe and Liz got an email from Holston: Because Gabe and Liz are Jewish, the agency wouldn't serve them. Holston told them it "only provide[s] adoption services to prospective adoptive families that share our [Christian] belief system."
"I felt like I'd been punched in the gut," Liz said. "It was the first time I felt discriminated against because I am Jewish. It was very shocking. And it was very hurtful that the agency seemed to think that a child would be better off in state custody than with a loving family like us."
Unable to find another agency in the Knox County area that would provide the needed training and home study for them, Gabe and Liz were unable to adopt Lorenz, the boy from Florida.
That's when Gabe and Liz reached out to Americans United for help.
"It's infuriating to learn our tax dollars are funding discrimination against us," said Gabe. "If an agency is getting tax money to provide a service, then everyone should be served – it shouldn't matter whether you're Jewish, Catholic or an atheist. We're all citizens of Tennessee, regardless of our religion."
Last week, Americans United filed a lawsuit on behalf of Gabe and Liz. The case, Rutan-Ram v. Tennessee Department of Children's Services, was filed in state court against the Tennessee Department of Children's Services. The lawsuit alleges that the Department violated the Tennessee Constitution's religious freedom and equal protection guarantees by contracting with and using tax dollars to fund an agency that engages in religious discrimination.
The lawsuit is the first to challenge Tennessee's new law. But as AU President and CEO Rachel Laser pointed out in recent interviews, Tennessee isn't the only state that has passed harmful bills that permit taxpayer-funded foster care agencies to use religion as a license to discriminate. At least eight other states have similar laws, plus the U.S. Office of Refugee Resettlement is permitting discrimination by agencies that contract with the federal government to find foster families for refugee children.
"Unfortunately, this sort of heartbreaking and unconstitutional activity is not unique to Gabe and Liz," Laser said in an interview with Today.com. "There are a lot of unconstitutional laws that pass in state legislatures and even in Congress. And it's up to brave citizens like Gabe and Liz to challenge them, and stand up for their own rights and the rights of other Americans."
Americans United now represents four families who were rejected by taxpayer-funded foster care agencies because they didn't share the agencies' religious beliefs – Aimee Maddonna in South Carolina, turned away because she's Catholic; and Kelly Easter in Tennessee and Fatma Marouf and Bryn Esplin in Texas, refused service because they're LGBTQ.
In addition to Gabe and Liz Rutan-Ram, AU's latest lawsuit also includes as plaintiffs six Tennessee residents, four of them faith leaders, who object to their tax dollars being used to fund any child-placing agency that engages in religious discrimination.
"The Tennessee Constitution, like the U.S. Constitution, promises religious freedom and equality for everyone. Tennessee is reneging on that promise by allowing a taxpayer-funded agency to discriminate against Liz and Gabe Rutan-Ram because they are Jews," said Alex J. Luchenitser, AU's associate vice president and associate legal director and the lead attorney on the case.
One of the faith leaders in the case is Alaina Kailyn Cobb, an ordained Christian minister who directs an interfaith justice ministry in Tennessee and has experience in serving adoptive families.
"I am so grateful for the chance to stand with the Rutan-Rams in this fight," she said in a statement. "Their courage to stand up to religious discrimination is not just admirable but among the highest orders of civic minded public service. Their fight is a fight for the rights of all Tennesseans, and we should all aspire to their courage and moral clarity."