Americans United for Separation of Church and State today filed a lawsuit on behalf of Elizabeth and Gabriel Rutan-Ram, a Jewish couple in Knox County, Tenn., who were denied services by a state-funded foster care agency because they are Jewish. The lawsuit, filed in state court against the Tennessee Department of Children's Services, explains that the Department violated the Tennessee Constitution's religious freedom and equal protection provisions by contracting with and using tax dollars to fund an agency that engages in religious discrimination.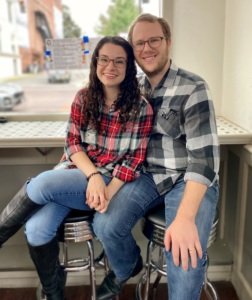 The Rutan-Rams in early 2021 were excited to begin the process of fostering to adopt a child from Florida. They were told they needed to complete Tennessee-mandated foster-parent training and a home-study certification. The Rutan-Rams contacted the only agency in their area that was willing to provide those services for out-of-state placements – Holston United Methodist Home for Children, a state-funded agency that provides foster care placement, training, and other services on behalf of the Tennessee Department of Children's Services.
Holston initially told the Rutan-Rams that it would provide them with the services they needed. But the day that the Rutan-Rams were scheduled to start Holston's training class, Holston told the couple it wouldn't serve them because they are Jewish. Holston said it "only provide[s] adoption services to prospective adoptive families that share our [Christian] belief system." Because there was no other agency in the Knox County area that would provide the foster-parent training and certification for the adoption of an out-of-state child, the Rutan-Rams were unable to adopt the boy from Florida.
"I felt like I'd been punched in the gut," said Liz Rutan-Ram. "It was the first time I felt discriminated against because I am Jewish. It was very shocking. And it was very hurtful that the agency seemed to think that a child would be better off in state custody than with a loving family like us."
"It's infuriating to learn our tax dollars are funding discrimination against us," said Gabe Rutan-Ram. "If an agency is getting tax money to provide a service, then everyone should be served – it shouldn't matter whether you're Jewish, Catholic or an atheist. We're all citizens of Tennessee, regardless of our religion."
The religious discrimination experienced by the Rutan-Rams occurred almost exactly a year after Gov. Bill Lee signed into law House Bill 836, which authorizes taxpayer-funded foster-care agencies in Tennessee to deny services to prospective families who are the "wrong" religion or don't follow an agency's religious tenets. State legislators were warned the law clearly violates religious freedom as outlined in both the state and U.S. Constitutions, but legislators passed the law despite public outcry.
"The Tennessee Constitution, like the U.S. Constitution, promises religious freedom and equality for everyone. Tennessee is reneging on that promise by allowing a taxpayer-funded agency to discriminate against Liz and Gabe Rutan-Ram because they are Jews," said Alex J. Luchenitser, associate vice president and associate legal director at Americans United. "Laws like House Bill 836 must not stand when they allow religion to be used to harm vulnerable kids and people like Liz and Gabe who want to provide those children with safe and loving homes."
Joining the Rutan-Rams as plaintiffs in the lawsuit are six Tennessee residents, four of them faith leaders, who object to their tax dollars being used to fund any child-placing agency that engages in religious discrimination. The plaintiffs include:
The Rev Jeannie Alexander, an interfaith pastor from Davidson County
The Rev. Elaine Blanchard, a Disciples of Christ minister from Shelby County
The Rev. Alaina Cobb, a Christian minister from Davidson County
The Rev. Denise Gyauch, a Unitarian Universalist minister from Davidson County
Dr. Larry Blanz of Davidson County, a retired psychologist with more than forty years of experience that includes working with foster parents and children
Mirabelle Stoedter, a Davidson County resident who serves as treasurer of the Tennessee chapter of Americans United for Separation of Church and State.
The lawsuit, Rutan-Ram v. Tennessee Department of Children's Services, also names department Commissioner Jennifer Nichols as a defendant. The suit explains that the department and Nichols are violating the religious-freedom and equal-protection provisions in Articles I and XI of the Tennessee Constitution by funding religious discrimination in foster-care services.
Attorneys working on the case include Luchenitser; Americans United Vice President and Legal Director Richard B. Katskee; AU Legal Fellow Gabriela Hybel; and Scott Kramer at The Kramer Law Center.
The complaint in Rutan-Ram v. Tennessee Department of Children's Services is available here.
Americans United is a religious freedom advocacy organization based in Washington, D.C. Founded in 1947, AU educates Americans about the importance of church-state separation in safeguarding religious freedom.
Press Contact